One Dad's perspective on the Cub Scout overnight at the Museum of Science

By Ted Cormier-Leger, Pack 7 Dedham
Back in the fall, my son's Cubmaster gave us the pitch about selling popcorn as a way to help support the pack and in return we would get some nice perks too.  One of those perks was my son would get to go the Museum of Science.
So like good Scouts we sold what we had to and eagerly waited for when our pack would get assigned its night at the museum.  I too was excited because I knew it was a parent and son program and something we could enjoy together.  After all, I remember going to the Museum as a kid many times on school field trips and such but I never got to sleep over.  I wonder if we can sleep under the T-Rex?  I wonder if they still have the planetarium?  Oh wow, I remember that lightning show being scary, so I hope my son is not freaked out.  These were a few of the things that passed through my mind.
So a few months later we got our date.  Sat night in mid February.  What I did not realize was MOST of the boys in my son's Wolf Den were attending.  Now fear was starting to set in.  Were these little hellions going to be up all night?  What if they break something priceless? What if they accidentally reprogram the museum's computers?  What if they take all the parents hostage and tie us up all night so they run free?  All very legit concerns for this particular group of 7 and 8 year old boys.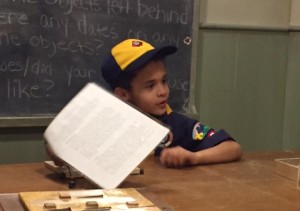 The afternoon had finally arrived and my son was very excited.  He wore his full uniform to the museum, proudly adorning all his accomplishments for the year.
We packed lightly but I was warned by more than one chaperone "bring an air mattress" so I did.  We got to the museum, checked in and soon I saw that not only was I chaperoning the scouts from my son's pack but more than 200 boys were there from around New England.  Was I insane?  I was agreeing to spend the night in a science museum with 200+ little boys, surrounded by dinosaurs, relics of ancient civilizations, live animals and enough sugary snacks to keep them awake for a decade.  Luckily I was pleasantly surprised….
We got to see an awesome demo on the history of animation.
We enjoyed a live animal show.
We explored the dinosaur hall and other exhibits.
We saw the amazing indoor lightning show which was just as cool as I remembered.
We learned about space exploration and the distance of planets in relation to the sun.
We even got snack and all this before 11pm!
Bedtime came and we all got our stuff.  Air mattresses were being blown up everywhere you looked.  One family had a setup complete with sheets, pillows and a comforter.  It looked better than many rooms I have stayed in at 4 star hotels.  I think they even brought slippers!  I looked around and tried to find a spot near a power outlet so I could charge my cell phone.  I set up our mattress and sleeping bags and quickly more and more boys kept coming over to my general area.  Uh oh.
Turns out the glass display on the other side of my sleeping area was the baby chicken hatching station. Lucky me.  Three little guys decided that night would be their birthday!  The kids were excited but as the night went on, those little chicks went from being cute to being thought of in a delicious buffalo sauce.  They chirped and chirped and well, I did not get much sleep.  But it's for the kids right?
Morning came and we got changed, got cleaned up as best we could and we got all our stuff packed away in our car.  We were treated to a nice breakfast and a morning full of more activities….an Imax theatre film, a planetarium show, more exhibit halls, another live animal show.  Good grief, they sure do pack it all in and 100% give you your money's worth.  By noon on Sunday, no matter how strong the iced coffee was from the café, I was all done and we needed to get going so we headed home.
Cub Scout Charlie had another awesome experience and I lived to tell the tale.  And I am so glad and thankful for my night with the baby chicks.