Submitted by John Iler, BSA Climbing Instructor, former Scoutmaster of Troop 103, Burlington, MA, and dad.
"OK, I'm going to do this exactly once in my life." That was my daughter Sarah as she prepared to rappel down a 40′ foot rock face at Quincy Quarries. Climbing/rappelling is just one of the many ways to 'play outside' provided by New England Base Camp at Camp Sayre.
Sarah leads a busy life with many high school activities, but she was never really a big outdoors person. However, her Eagle Scout twin brother Luke was very active in his Boy Scout Troop. Sarah enjoyed Luke's stories of adventure and misadventure as he returned from campouts. She wanted a taste of the camaraderie with good friends, the fun of a campfire and outdoor cooking, and a little adventure. When Burlington's Venture Crew started two years ago, she jumped at the opportunity to be a founding member.
One of the first adventures the Crew had was the Quincy Quarries rock climbing trip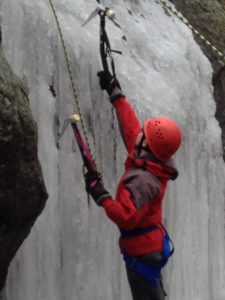 mentioned above. Shortly after that trip, the Crew enjoyed the Venturing Klondike at Base Camp in February 2015. In the abundant snow, Venturers hiked about in snowshoes, went Ice Climbing, and practiced making climbing snow anchors, all within Base Camp. One station embedded in Sarah's memory was the simulated crevasse rescue. As the first volunteer 'victim', Sarah began to lower off the edge of a very real ice and snow covered cliff being used to simulate a crevasse. She gasped slightly, exclaiming, "this is a lot higher than I expected!". Fortunately, her Crewmates working with the instructors set up the rescue rope and pulley system and hauled her back up over the edge.
The following year (February 2016), Base Camp hosted another Venturing Klondike in
decidedly less Klondike-like conditions. The Base Camp staff and Ice Climbing instructors adjusted the program to deal with the balmy weather and snow-free conditions. The Crew particularly enjoyed the fat-tire bike riding and Base Camp's High COPE course. When Sarah walked along the COPE course's 50′ high 'Burma Bridge' cable, she let go of another fear.
As Sarah and the Crew prepares to go to Philmont this summer, I know their various Base Camp experiences were a good part of giving them the confidence to try any challenge.
In parallel with the Crew's growth, I was also able to have some of my own. Just before the Crew formed, I was a student in a BSA Climbing Instructor's course. This led to me becoming a rock and ice climbing instructor in the council, which allowed me to help provide many of the Crew's experiences above. I am fortunate to have worked with so many scouts and for my new friends in the instructors' community.
Are instructing and participating in Base Camp's climbing opportunities right for everyone? You will know as soon as you try.
#letsPLAYoutside