Vision
"To develop youth, their families, and by extension, our communities in preparedness for health and safety in the event of personal emergencies or community disasters through evidence-based scouting activities, FEMA resources, and in collaboration with local preparedness partners."
The Spirit of Adventure Council is actively working with the Federal Emergency Management Agency & the Massachusetts Emergency Management Agency (FEMA/MEMA) and in extension local first responders to bring together youth interested in supporting disaster preparedness and making a difference in their communities by completing disaster preparedness projects.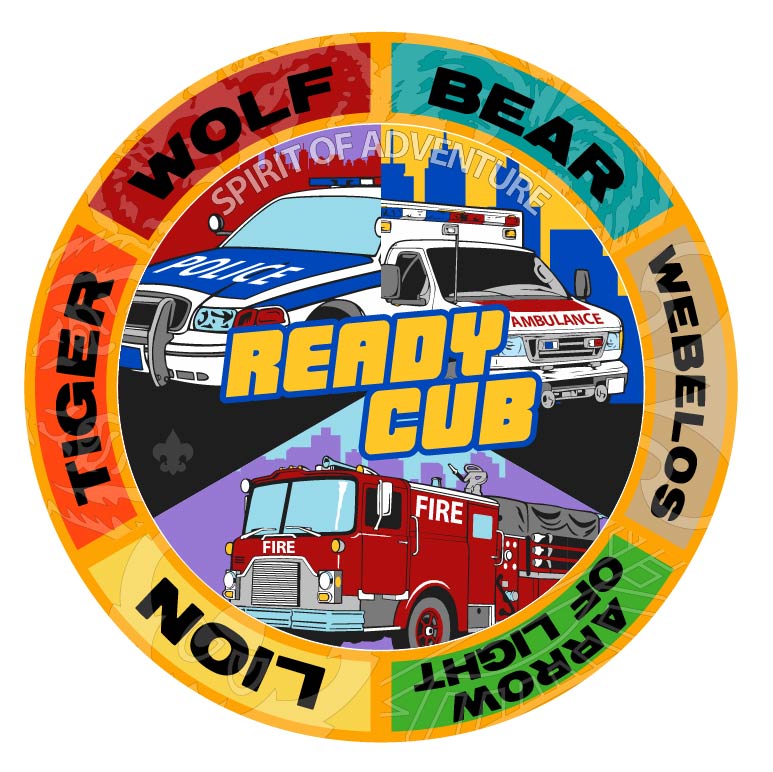 Ready Cub
Getting started on Ready Cub! is easy. There are three "levels" to the program: What you can do in the Den, Pack and for the Community. There is something there for everyone, the youths, their families, den leaders, cubmaster etc. In this Ready Cub! material you can quickly navigate the requirements for your den/pack and see how the Ready Cub! activities can fill in a portion of your annual pack program while attracting new youth and engaging community partners.
Requirements
To Earn the Ready Cub! Patch review and complete the following:
Pack level requirements are specified in the section about "Earning The Patch / Pack Recognition"
How to build community partnerships in your town (adult recognition opportunity)
Patch Reporting
After individuals, dens, pack, and or adults complete the Ready Cub requirements, request your Ready Cub! Patch here. The patch represents your commitment to the Ready Cub! Vision!
Recruitment – In School Presentation Programs
We would like to make our Ready Cub! program available to all of our youth whether they are Cub Scouts or not. We are therefore also inviting non-scout youth to access our program in elementary school presentations by our trained leaders presenting age-appropriate FEMA educational material on emergency preparedness, namely:
Create In-School Program Certificate
You can create and award the class/grade taking either of the two in-school programs, "Prepare with Pedro" or STEP, a Ready Cub Certificate here.
Download the In School Presentation Programs Guide for more information.
Building First Responder Collaborations
Scouting relies on community partnerships to provide opportunities for our youth to learn and grow. Community partners are sought to provide leadership, materials, and programming to encourage youth participation. Our partnership with Federal Emergency Management Agency & the Massachusetts Emergency Management Agency (FEMA/MEMA) creates an umbrella environment to set the stage for deeper and local first responders and schools partnership by our local scout units. Read more below how your Pack can reach out to first responders and schools to create a better and stronger community together.
Download a How-to Guide of Building First Responder Collaborations.
Ready Scout
Scouts BSA (Ready Scout):  Designed as a traditional Merit Badge Series, Ready Scout will offer requirement fulfillment for 7 Merit Badges all focused on emergency readiness and public safety.  This merit badge series is recommended to all Scouts but should be particularly focused before age 14 - when Scouts and other age appropriate Scouting program participants can be brought into the Teen CERT Framework. The merit badges required for Ready Scout status are listed here:  Insert Link to Ready Scout writeup from Jeffrey
Teen CERT/CERT
Scouts BSA Troops, Ships, Venture Crews, & Exploring Posts (Teen CERT):  All Scouting units, with the exception of Cub Scouts, are encouraged to begin training in the Teen CERT program.  Specifically, all youth age 14+ and all adult leaders are encouraged to participate in Teen CERT.
What is CERT
"The Community Emergency Response Team (CERT) program educates volunteers about disaster preparedness for the hazards that may impact their area and trains them in basic disaster response skills, such as fire safety, light search and rescue, team organization, and disaster medical operations. CERT offers a consistent, nationwide approach to volunteer training and organization that professional responders can rely on during disaster situations, allowing them to focus on more complex tasks" -FEMA
What is Teen CERT
"The Teen CERT training program teaches youth readiness and response skills. Hands-on practice and realistic exercises prepare youth for the unexpected in their community. Newly learned leadership skills will empower youth to safely respond to an emergency and assist victims without endangering themselves or others." – FEMA
To begin training yourself personally or to enroll your Scouting unit in Teen CERT training, please contact Dan Perenick at [email protected]
First Aid Kit Sales

The First Aid Kit sale is a risk-free unit fundraiser designed to help youth and units fund their yearly Scouting adventures (including summer camp).
The kits are priced from $16 - $120.
The participating unit will keep 40% commission of their in-person sales!
There is a kit available for everyone - homeowners, sports enthusiasts, pet owners, large families, and businesses! The kits make great Mother's Day, Father's Day, graduation, and any time of the year gifts. They are also great to have in sports bags, backpacks, cars, purses, etc. Kits are non-perishable and can be gifted or delivered to family and friends at a later time.
First Aid Kit Fundraiser Timeline
This fundraiser is run on a yearly basis typically between March through June.
How to Participate
If your unit is interested to participate, please reach out to:
Mark Maurice - [email protected]
Flintlock District Committee Chair
SoA Preparedness Chair & CERT/Teen CERT
Dan Perenick
SoA CERT/Teen CERT Captain
Spirit of Adventure Council
Boy Scouts of America
Email: [email protected]
Emergency Research Coordinator
Jeffrey L. Pellegrino, Ph.D., MPH
Asst. Professor
Emergency Management & Homeland Security
College of Health & Human Sciences
University of Akron
Email: [email protected]
Ready Cub!
Ronnie Andersson
Ready Cub! Captain
Spirit of Adventure Council
Boy Scouts of America
Email: [email protected]
Ready Scout!
Ready Scout! Captain
Spirit of Adventure Council
Boy Scouts of America
Email:  [email protected]
STEP
Arlene Magoon
STEP Captain
Spirit of Adventure Council
Boy Scouts of America
Email: [email protected]