Submitted by Kim Lynch, Cubmaster (Pack 105, Burlington), Teacher, Mom, and Wife
My first year of being Cubmaster is coming to an end, and I can't tell you how many times I've been asked why I do it. The answers always revolve around my sons: Jarrod (a Boy Scout), Dylan (a Wolf),  and another coming into Cub Scouts in a few more years.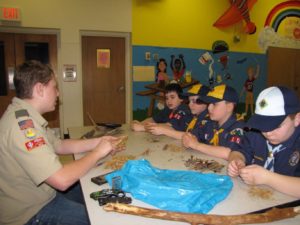 I start my answer with a description of loyally cheering Scouts at a Pinewood Derby, or a thrifty and creative Recyclable Rain Gutter Regatta, occasionally I include the helpful relationships between Boy Scouts and Cub Scouts (I often use this one). Maybe I include the enjoyment of warm campfires, silly skits and scrumptious s'mores, but sometimes I simply focus on the morals that Scouting instills and how they revolve around teaching boys to be good men and dads later in life.
My answers always encompass what Scouting offers my children.
It's here that I came to realize something a little different. I love Scouting for me. As new members to our local community, Jarrod and I forged relationships we still enjoy today; people I trust with my son in every way; people who have fought for him and supported him and helped me to feel trust. Now, as a Cubmaster, I enjoy friendships that extend well past Scouting. We look forward to our monthly leader meetings where we come together as friends and plan for our next meetings.
We all enjoy our Scouting fun and our many Scouting adventures and we have similar interests as well. This year a few of us from the Wolf den enjoyed a family adventure. Our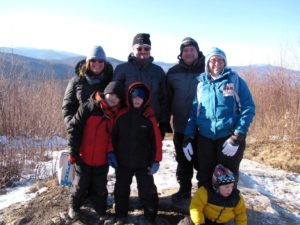 thrill ride took us up a mountain trail in New Hampshire together. We celebrate birthdays together or even just a fire side night out. Scouting brought us all together as friends. Our similar philosophies brought us to Cub Scouting and in turn to each other.
Our differences make us strong leaders. We have a tech-savvy spreadsheet creating wiz, a hands-on crafty queen, a saleswoman-forward-thinking diva, along with an innovative idea king and a Shriner Clown who's always willing to share a laugh or twist a balloon. Our values tie us or should I say 'knot' us together both in and out of Scouting.
So when people say it's hard to make new friends, I disagree. Knowing who you are and going out in search of it will bring you right to them.
From now on, when I answer the questions about loving Scouting, I will still start off with the many rewards my children reap, those all encompassing values, but I will equally emphasize what Scouting does for me!