How does a Lion Den work? What kind of Scout programs can Lions do? Every Cub Scout Pack can now recruit Kindergartners into a Lion Program!
 Click here for an informational PDF to share with new parents! 
How Lion Dens Will Work: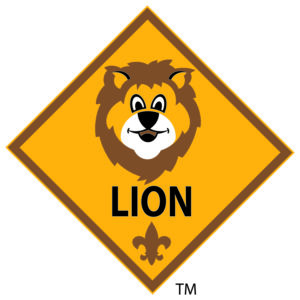 The Lion program year runs from September through May. At that point, they cross over into Tigers.

Like Tigers, each boy is accompanied by an adult partner who attends all meetings and outings with the boy.

There is no Lion den leader. The den follows a shared leadership model in which the adult partners take turns running the meeting and outing.

Each month the Lion den gathers twice.  There is one den meeting and either an outing (open to the whole family) or a Pack meeting. Lion dens typically attend two or three pack events per month. These should be special or especially fun gatherings. You may want to consider a holiday pack meeting, blue and gold banquet, or other really special meeting.
Activities: 
All Lions get the Adventure Card with their registration, which means they are able to receive all of the benefits when they book outdoor adventures!
New England Base Camp's Open Program on Saturdays is free for all Cubs with the Adventure Card, including Lions. Come to Milton, MA or Kingston, NH to play in the outdoor activities.

Learning to camp
Hiking
Outdoor cooking
Native American activities
Wilderness skills
Swimming
STEM center
Ecology: Dinosaurs & Honey bees
3-D printer
Game room with Oversized chess & 3D dinosaur puzzles
Indoor climbing program
Sledding (Winter)
Ice skating (Winter)
Snow shoeing (Winter)
Winter wilderness survival (Winter)

When Lions come to New England Base Camp, they also get 20% guest admission and 20% meals at both locations.
Special Lion Programs at Satellite locations: "Lions Fun In the Outdoors"

Guided Hike

Learn about the nature and animals around you

Get ready for Tiger Scouts
For more information about Lions and Recruiting contact George O'Loughlin.