Submitted by Diane Trubiano, Cub Scout Leader and Scout Parent.
Since Pumpkin Fest in October, my son Paul and I have had quite the adventure adding to our scouting story.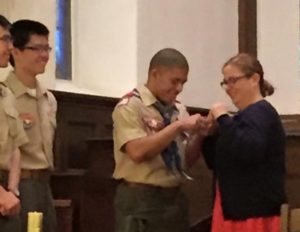 He started college, completed hiking all 48 of the 4000 footers in New Hampshire, and most excitingly earned the Rank of Eagle Scout. It was a great celebration (and moment of pride for me as his mom) to start 2016.
To pick up where I left off last year; it is safe to say that a good number of the people I am close to and call friends are people I have met through Scouting. If you look at my Facebook friends list, it is made up of all Scouts and family.  We see each other weekly in Pack and Troop meetings, then at the district and council level each month. I know families that see less of each other than that! We all of course bond over the common interest of Scouting and our commitment to the youth we serve. As we share stories about our favorite Scouting moments, it often feels as though Scouts and their parents become like family to you.
Some of the nicest people I have ever met are through the Scouting program. 
As
dedicated parents, we understand the long hours and time away from home, the need for taking our units camping for weekends and weeks at summer camp, hiking mountains with 50 pound back packs, passing swim tests at summer camp, challenging youth to do more than they thought they could. Shared interests, experiences, and campfires are what bring us together to meet and make new friends through the fellowship Scouting offers us as adults and youth.
When I was asked to help recruit 10,000 participants to join us at SOAR – Scouting's Outdoor Adventure on the River in 2016,  I saw it as a great opportunity to make 10,000 new Scouting Friends. To share an event this big with so many Boy Scouts, Cub Scouts, Venturers, and Scout Leaders from all over the Northeast is an opportunity not to be missed!
Please join me and share in a memorable experience with thousands of new friends at SOAR 2016 – Scouting's Outdoor Adventure on the River October 8-10, 2016! I am very much looking forward to the opportunity for fellowship with all of you 😊

Click to reserve your spot on the banks of the Charles River for the day (10/9) or the whole weekend.