Sincerely submitted by Francisco Guzman, Scout parent, Cubmaster Pack 109, Leader Troop 109, Chelsea
"We all should know that diversity makes for a rich tapestry, and we must understand that all the threads of the tapestry are equal in value no matter what their color."  – Maya Angelou
Three boyhood friends, one Asian, one African American and one Caucasian walk into the Bar at the Ritz.  They all grew up together, went to Milton Academy, and recently all graduated from Harvard Business School…  This may be the beginning of a joke, but the question I would ask is, are they a diverse group?  My answer would be NO!  Diversity is more that race or ethnicity; it is a group of people from diverse racial, ethnic, social, religious, educational, financial, life experience and cultural backgrounds working together for a common goal.   The above group may be of different races, and possibly other factors, but the all share an equal cultural and social foundation.
The recent acts of race and ethnic base violence became a catalyst for my second blog.  Part of the reason is that I am trying to come to understand something that is beyond my understanding, how people make decisions and act on them based solely on someone's race or ethnic background.  The other part is to share how lucky I am that our Scout group in Chelsea has remained free of any ethnic or racial discord.
My upbringing did not prepare me for the racial tensions that are so much in the news.  Having grown up in Puerto Rico, a community as racially diverse as you will find, we could not understand the racial tension shown on American TV during the 60's and 70's.  Our running joke in those days was that if we were racist, we would start by hating ourselves!
When my wife and I restarted the Cub Scout Pack in Chelsea, we made a decision to actively recruit Scouts from every race, ethnicity, social class, religion etc.  We did not want a Hispanic or any specific ethnicity group. 
It was important to me to try to recreate the Scout experience I was involved in as a youth.  Fortunately our neighborhoods are exactly like that.  The Chelsea schools are integrated regardless of any traits from preschool on.  All kids learn early on to work with other children regardless of appearance or any other differences.
As much as younger children do not have any preconceived ideas of hatred or racial bias, unfortunately parts of our society seems to very easily teach our children about it.  It has been our priority as Scout leaders to keep those divisive issues from our Boy Scout program.  We emphasize from day one, that we are stronger because of our differences, not in spite of them.  Our Scouts learn to judge each other based on actions and behaviors, not on skin color, country of origin or language spoken.
By using the values taught in Scouting, we are able to keep at bay the negative values that seem to run freely thru our society today.  We teach our scouts to value cooperation vs. winning at all cost; the importance of community betterment vs. self gain; the importance of trustworthiness vs. selfishness.  These are the values Scouting instills on our children and teen agers, and we must continue focusing on those values.
Unfortunately, the foundation of Scouting as a community base organization, can also be use to foster those negative values.  We must remain vigilant against some of the more narrow minded and bigoted views within our movement that want to return to the "olden days".  The future of our communities and our program will be on how it deals with those that are different from "us".  Every time I hear the old "but this is how we have always done it" my stomach churns.  This excuse has been used for generations to allow for everything from slavery to segregation; from withholding education from girls and children with special needs to withholding equal pay for women or other special or disenfranchised groups.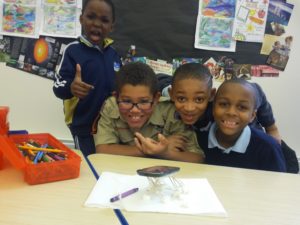 Presently we have 25-30 Scouts from several countries, religions, races and at least 5 different languages.  We have Scouts with physical, emotional and intellectual disabilities.  We have Scouts from financially challenged families and Scouts whose families can help and contribute.  At our recent summer camp I was stuck by the fact that on the second night of the week long summer camp I had 3 homesick Scouts, all three were different races, ethnicities and which all spoke different languages.  When the tears came, some of the other Scouts jumped into action.  Amazingly, they did not jump in to comfort the children that were "similar" or the same ethnicity or spoke the same language as them, they just helped a Scout. It was not based on race, or ethnicity or language, just simply Scouts helping other Scouts.  That was all the proof I needed that we are on the right track, we just need to persevere.  MLK's famous speech was about his dream, I am happy to see Chelsea's Scout group bringing that dream a little closer to reality.
"The war we have to wage today has only one goal and that is to make the world safe for diversity." – U Thant (Former Secretary General of the U.N.)