WOW!! Have you heard about Nathan? Our council's 2019 Top Seller!!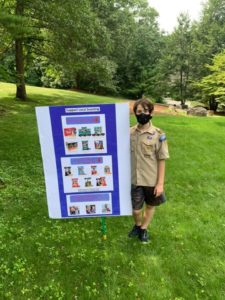 Nathan has been out selling door to door these past few days.  He designed the 3 by 4ft poster in the attached picture and had it printed at Staples. Mariama Sano had the opportunity to connect with Nathan yesterday regarding his experience and here's what he shared with us.
"For starters, the people in my neighborhood have been very supportive when I speak with them about selling popcorn.  I try to keep my distance, wear a mask and limit contact with the customers, who seem to appreciate my effort to keep save.  So far, no one has reacted negatively to me because of COVID, and sometimes I think they are impressed with the steps I've taken to keep everyone safe. Having the large poster has be helpful because customers have been able to easily see the products from a safe distance. They will point at the item or read the name off the poster. I believe customers have enjoyed the sign a lot. I have been telling people about the shipping cost and it hasn't been too discouraging although I had a few customers who opted for the wagon sale because of it. One thing that I have been doing is letting customers know that shipping comes much much much faster and that has helped.
Not listing prices on the poster has also been helpful. When people ask about the cost, I encourage them to choose the item they want first and then I'll tell them how much that item cost. This way they got attached to the product before getting the price. When I compare my average sale per customer to last year, I see that there's an increase spending. A number of customers are spending over 50 dollars!
I recommend that people sell in the early evening. That time frame works the best for me because it is a little cooler. It is also the time when people are done working from home.
My family and I are heading to Cape Cod this weekend and I plan to sell there.  The Online Direct option means that I don't need to worry about delivering the orders in the fall – which my dad also really likes.
I also tell customers that we're only doing credit card transactions.  The Square Reader seems to make them feel more comfortable with paying by credit card.  I think the credit card option is great because I get more rewards from Trails End and I don't need to worry about dropping money when I am walking from house to house."
Congratulations on hitting the streets Nathan. To all other scouts & scout parents, Nathan has paved the way. To learn how you can start selling, TEXT 62771.
Mariama is interested in hearing from more scouts who are currently selling. If you know anyone who is, please let her know at [email protected]