A Discussion to Have With Your Chartering Organization and Fellow Parents
Submitted by the Council Key 3:
---
ACTION STEPS IF YOUR CUB PROGRAM WOULD LIKE TO WELCOME GIRLS:
If your parents and organization are already in agreement, you will be welcome to become one of our Council's early adopters.
Contact the Council (617-615-0004) and us know your pack would like to welcome girls

Create a plan for Cub Scouts to complete rank requirements in a compressed timeline and send it to Jon Pleva

Update your BeAScout Pin. Options will be "All Boy Pack" "All Girl Pack" "Family Pack"

Chartering Organization Rep. must set this first and then the Pack Leadership

The option to update the pin will be closed March 15th
         4. Starting January 15th, register a minimum of 4 girls, which must be done through Online Registration
If discussions lead you to believe your unit requires more time (later than March 15th) or won't be able to deliver a program in a compressed timeline, your unit has the option of starting in mid-June.
ACTION STEPS IF YOUR CUB PROGRAM WOULD LIKE TO REMAIN ONLY AVAILABLE TO BOYS
If your Scouting community decides to remain a single gender Cub Program, simply update the BEaSCOUT information to state that your Pack is a "single gender – all boy pack."
CHANGING YOUR Be A Scout PIN
The Be A Scout pins are ready to be updated for Family Scouting! Have your Charter Org Rep update, followed by your Cubmaster or other designated leader. (Your charter must be processed to accept online applications)
• Log on to my.scouting.org
• Click on the "Menu" button on left hand side
• Under your Cub Scout Pack, click on "Organization Manager"
• Under "Organization Manager" click on "Settings" at the top of the page
• On the settings page, scroll to the bottom
• At the bottom there is a section called "Family Scouting," fill out this section and hit "commit"
---
This is a very exciting time to be a part of the Boy Scouts. As you might already know, the BSA will offer Cub Scouting to girls in 2018 and by 2019 all Scout programs will be open to girls, allowing them to earn the rank of Eagle.
Our character education program has been used successfully for over a century. A few years ago, Tufts University conducted a study to measure the effectiveness of Scouting with very strong and positive results, including Scouts being more likely to embrace positive social values and longevity and dedication in Scouting being correlated with higher character attributes.
It's part of our continuing mission to unlock Scouting for all families who wish to use our curriculum to raise children of character.
EXPERIENCE SERVING THE WHOLE FAMILY
Scouting has had co-ed programs and co-ed camping for over 40 years. Exploring became co-ed in the '60s and Venturing become co-ed in 2000. All our camp staff are co-ed and all our camps have experience dealing the nuances of co-ed Scouting.
In 2014 – 2015 we re-branded our camp in the Blue Hills, now called New England Base Camp, which is just 2 miles from Boston, as a camp open to the public. Our other camps are still primarily reserved for Scouts. The Base Camp is the embodiment of Boy Scout Handbook, yet because it's open to the public, everyone plays and everyone learns. This means we have a LOT of experience with girls and boys sharing the same camping facility, programs and activities. Similarly on the national stage, the BSA has been adapting policies to help local councils better serve their communities by eliminating restrictions on members yet retain our core elements of the program. Scouting is very much still a private organization, and still supports the core concept that parents deliver the program.  
HOW THIS MIGHT AFFECT YOUR CUB PACK
Our focus moving forward is to enable any family that wants to utilize our curriculum, to join and work collaboratively with other families to deliver the program. Therefore, it's imperative that each family joins a local Cub Scout Pack, Troop or Crew that best matches their family's beliefs and values. That's where our chartering organization relationship comes into the conversation. 100+ years ago much of our community values and goals were understood to be similar or identical. Today, our American society recognizes a much greater diversity of thought and beliefs. Scouting seeks to serve all families and respect each family's unique identity while simultaneously supporting each chartering organization's rights. We believe a growing community requires a respect for all people while we teach our children to adhere to the characteristics of the Scout oath and law.
This is undoubtedly a challenging road – but one we believe is critical for the future development of our young people. Therefore, the parents and chartering organization need to be in alignment regarding core issues, discussing and coming to agreement on questions like:
Will our Cub program (and eventually our Boy Scout program) accept girls?

Who will be the leaders in Pack, Troop or Crew?

How often will the boys and girls participate in Scouting together, and when will we provide single gender environments?

How do we discipline Scouts? How do we interpret (strict or lax) the advancement program? How do we handle special needs? How do we handle spiritual diversity?
Scouting provides the curriculum, resources and the safety boundaries for the families to use in their work to deliver the program. By developing a common ground understanding, chartering organizations and parents will be able to work better together. The advent of girls in the program simply heightens the need for these types of discussions which we recommend occur annually. Families will then be less apt to make assumptions about the program. Families who cannot align themselves with the group's decision will still be welcome in Scouting, but it wouldn't be in the child's best interest to be in a group that doesn't agree with their parent's values. In that case, it will fall to the Scouting organization to help that family find the right parents and organization to work with to provide Scouting experience.
In many cases, the advent of girls in the program doesn't require much conversation: the parents and chartering organizations are quickly in alignment. "We'd love to welcome girls!" or "We believe in the single gender environment and have a great program for girls in our community – so in our unit there will be no change." Either position is OK with us! We simply need to know your collective decision.
A Unit Leader Webinar and additional program information will be available on January 8th for units still making their decision.
Read this for info about updating your BEaSCOUT pin
IF YOU NEED HELP WITH THE DECISION-MAKING PROCESS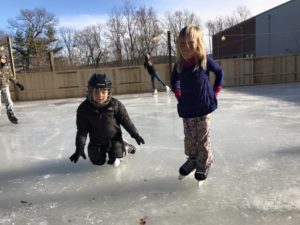 Also, if you need help conducting the conversation with your parents or additional information, we'll be happy to help. You can call 617-615-0004. But, please keep in mind, it's a local community decision, we can't make it for the organization or for the parents. All the information about serving the whole family can be found here.  Questions can also be directed to [email protected].
The conversation and the updated BeAScout information should happen as quickly as possible. Girls will be welcomed in Scouting as soon as January 15th 2018. However, your Scouting leadership does NOT have to rush the conversation.
Thanks so much for your time and consideration. Please contact us at any time with any questions and we'd be happy to speak with you about the future of Scouting.