Online Registration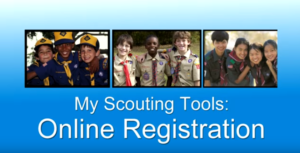 Online Registration for NEW members went LIVE in June 2017.
Online Registration Tips: Common Issues & Solutions we've noticed in the first couple years.
UNIT KEY 3's: Instructions for accepting online youth applications:
Logon to your my.scouting.org account (this is the same site that you take youth protection training)
 Click on MENU
Select the unit that you want to accept online applications for.
Select APPLICATION MANAGER
Select YOUTH (in the middle of the screen)
Select PENDING ACCEPTANCE
Click on one of the youth's names
Select ACCEPT (this will move it to Pending payment for the council to process)
Repeat steps 7 and 8 for each youth that you want to accept.
The council will process the youth applications listed under pending payment usually within a few days.
Paper Youth Application (fillable)
Adult Applications, CORI, BSA Disclosure form and Youth Protection
Adults need to submit paper applications along with a CORI, background disclosure form, copy of government issued photo identification, and proof of Youth Protection training.  Forms can be scanned and emailed to either [email protected] or [email protected] If you wish to mail paper forms, please send to Spirit of Adventure Council, 2 Tower Office Park, Woburn, MA 01801.
HOW TO GUIDE FOR TAKING YOUTH PROTECTION TRAINING
Youth Protection Training (YPT) is a requirement to be a registered leader in the Boy Scouts of America.  All leaders in Packs, Troops, Crews, Ships, Exploring Posts and Clubs must take this course.
(Recommended Browsers are Google Chrome for the PC or Safari for the MAC).
Go to http://my.scouting.org
Enter your login name and password.
On the opening page of my.scouting.org, click on the Youth Protection logo for English or Spanish.
On the next screen click on Youth Protection Training
On the Youth Protection page of the BSA Learn Center select MANDATORY Youth Protection Training
Select ENROLL to add Youth Protection training to your account
Select START on one of the modules (You must complete all the modules to receive credit for the training)
Select the arrow button on the middle of your screen. When you are ready to begin training select the START button on the module.
At the completion of the module select NEXT this will take you to the next module
You must pass the exam with a 75% or better to pass.
Select CONTINUE upon completion of the test.
Printing your certificateIt can take 24 to 48 hours before your certificate is available to print.
Go to http://my.scouting.org
Enter your login name and password.
From MENU select MY TRAINING.
Select the printer icon to print your certificate.
Don't know if you have a my.scouting.org account or forgot username or password:
Select FORGOT USERNAME/PASSWORD.   You will need to know either your member ID or email associated with the account to recover your username.  You will need to know your username to recover your password.  When recovering your username, if it finds an account that maybe yours, it will show on the next screen.  If there is more than one, select the one that is yours and select RETRIEVE SELECTED ACCOUNT.   On the next screen, you will be asked security questions, or you can choose personal information.  Answer the questions and if there is an account, you will receive your username.
Set Up Your BeAScout Pin
This action needs to be taken by the Committee Chair, the Chartered Organization Representative, or the unit leader. The BeAScout unit pin allows prospective members to find you online and apply to your unit.
Login in to my.scouting.org
Select MENU
Select your UNIT
Select Organization Manager
UPDATE UNIT INFORMATION
Select UNIT PIN (left-hand side of the screen)
Unit information section of the screen
Set Appear on BeAScout to the on position

On if check mark is visible
If on this allows unit pin to show on map

Allow People to Apply online from BeAScout Pin

On if check mark is visible
PRIMARY CONTACT INFORMATION
Person whose information
Will be visible when someone clicks on your unit's pin

Email recommended
Phone number optional

Will only display if you select to display

Unit's web address if you have one
Additional information

e. Day and time usually meet, interests etc.
UNIT MEETING ADDRESS
Verify address of where you meet is correct
Defaults to Chartered Organization address
Select LOCATE
This will update latitude and longitude on map
FIELDS TO DISPLAY ON UNIT PIN
Choose the fields you want displayed on the pin

On if check mark is visible

The fields selected will display in UNIT PREVIEW
as you enable them so you can see what will
be displayed
After your changes are made select SAVE (at bottom of screen)
For additional information got to https://www.scouting.org/resources/online-registration/
Scroll down to Getting Started Step 2 to watch the video