Here's all of the Membership Recruiting Information for the 2018- 2019 year!
The Theme for this year's membership Campaign is Rocket into Scouting!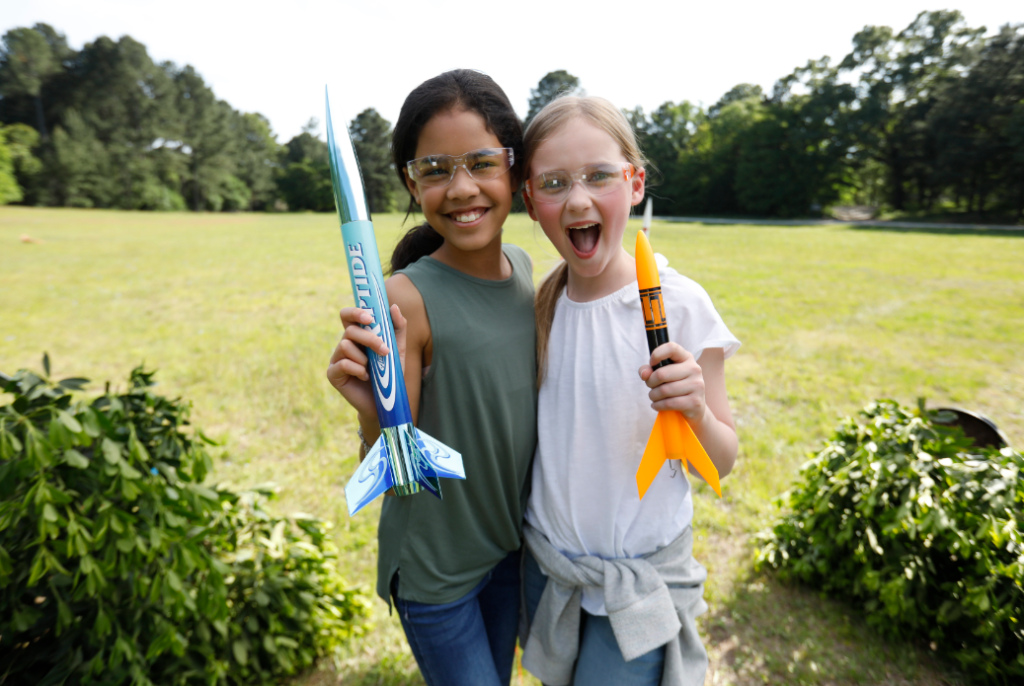 All youth that signup during the fall campaign this year from qualifying Packs will receive a Rocket to launch at one of the 3 exciting council- sponsored launches.
To qualify for the Rocket into Scouting Program, units must:
Commit to holding 3 signup events this fall.  Each of the 3 signup opportunities must be held before November 1

st

. The Council can provide both flyers and invitations for these events. Or units can create flyers of their own. These events can be whatever a unit usually does to be successful in Fall recruiting.  Suggestions and examples are:

A Pack run Signup Night Rally

A Bring a Buddy Event such as a Halloween Party or Ice Cream Social; Download invitation HERE

A library signup night which the Council can help you arrange

Fill out this form with signup event details by July 31st

Council-Wide Launches
Start your school year with a BLAST! Every NEW Scout who registers by October 31st will receive a FREE model rocket to launch! This will kickstart both their Scouting career and a lifelong love of STEM. This is a great first event for all of our new Scouts to attend! Launch Day events will be at three different locations around our council area. Find the one that's most convenient for your pack or family:
At the launches, each NEW Scout will receive a free launch engine. Launch Day Events will offer Rocket Building Stations (although we still recommend you build your rockets beforehand). Other fun Scouting activities will be provided and vary by location. All of our Launch Sites will provide a great time launching Rockets with your Scouts and family!
The entire family and current Scouts are welcome, and additional rockets kits can be purchased and built at the event.
Membership Kickoffs in August
The Rockets, flyers and invitations will be ready by the August Membership Kickoffs:
At the August Kickoffs, we will also distribute Lawn Signs and  Membership Posters. The Kickoffs will feature experts in Membership Recruiting who've had success in the past to share best practices on reaching out to new families. Please make every effort to register for and attend one of the Kickoffs. These are easily one of the most important Scouting events of the entire year.
Lion Program
The Lions pilot of the last 2 school years has been extremely successful

The National Executive Committee has voted to make it an

official part of Cub Scout program

for all Packs across the country.  It's a rank like Tiger, Wolf, Bear, Webelos

All Packs

should be actively recruiting Lions this fall once school starts
Boy Scout "Bring a Buddy"Events
Boy Scout Troops are Actively encouraged to hold fun 'Bring a Buddy' events such as fishing trips, camp outs, Troop Outdoor Campfire Parties with Scouting Skits etc. to encourage recruiting.  Bring a buddy invitation to your events can be  downloaded HERE.
Welcoming Girls
All Packs and Troops are actively encouraged to have a discussion with their Chartered Organization Representatives to consider inviting girls into their units.  Girls who are Cub Scout age, now can be registered right away once the unit "opts-in" in My.Scouting.org  and girls at the Troop level will be able to register as of Feb 2019.
For all Council-provided Membership Resources, visit ScoutSpirit.org/leaders/