Submitted by Matt Bailey, Cubmaster, Pack 28 Wenham
Last year, I recall reading a Council blog about a focus group held at New England Base Camp with non Scouting families. My takeaway was families once exposed to the Scouting program thought it was awesome but they also told us they saw Scouting a closed system and as outsiders did not know how to access Scouting.
I thought this was a terrific insight and thought if we can get our message out and promote an invitational environment, we may just be able to grow the program.
Now, I have enjoyed some recent success getting our Pack's story in the local press. It wasn't easy.
I spent a year submitting photos and articles and getting no results. My wife and I spoke with reporters and editors at our local weekly and delivered a similar response.
"We have been sending pictures and articles but nothing gets published. I'm good if you don't print our stuff, just let me know and I won't bother taking the time to submit articles".
What changed? We did.
Our media friends, want photos and stories about our Scouts doing something exciting. Let our Scouts tell the story. Show the Scouting spirit.
So, here are the secrets:
Make it easy for the press.
Give them action photos and an engaging headline.
Close up photos work best.
So, if we write the story we want to tell, in they way the press likes they may just print the whole thing.
Wow! Think about that for a moment…
We have an opportunity to engage potential recruits, stakeholders and the communities we serve at zero cost. We also get to define the Scouting brand in our community. People have a fuzzy impression of what Scouting is about and so if we create a mental picture of Scouting in our local community we may be more successful recruiting new members and engaging adult participation.
So, why would the press be interested in Scouting?
We have great activities no one else is doing.
Cub Scout photos show authentic excitement.
We are local.
Our content is free. No payments to freelancers or staff reporters.
Cub Scout parents are a demographic that might not buy newspapers and who the print media may want to engage…and the demographic that buys newspapers loves Scouting.
Here an example of a good, but ineffective, effort…
Headline: Pack 28 Pinewood Derby Race Winners Announced Group shot of a Pinewood Derby finalists. (NOT Published)
This is an example of why close ups are important. A good close up eliminates visual clutter that may not be appealing to an editor. It is also a lot easier to take a three great individual photos than a group shot.
The below articles were published and I included one photo from the final article; however each article had a multiple photos that made it to print and I did not include the narrative portion. A common theme among all that were printed were great photos of Scouts genuinely excited about Scouting. All three events, were also open to new recruits and we had new visitors.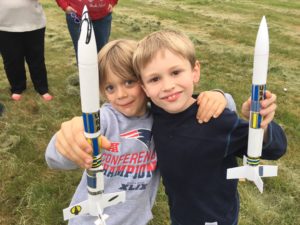 Headline: Cub Scouts Ignite Interest in STEM / Photo Caption: Caeden and Owen very proud of the rockets they made (PUBLISHED)
Headline: Pack 28 Holds Annual Fishing Derby / Photo Caption: Pack 28 held their 2016 Fishing Derby at Pleasant Pond in Wenham. Gabe won the award for the smallest fish. (PUBLISHED)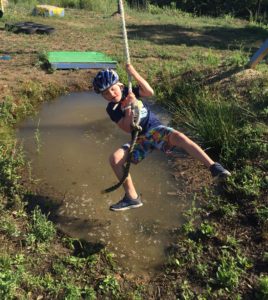 Headline: Wenham Cub Scouts Catch Olympic Spirit / Photo Caption: Avery clears the mud pit and stays dry.(PUBLISHED)
So, you may say, that's great but: 1) you aren't a professional photographer, 2) you are not in PR and 3) you don't have time.
No worries. Most of these photos were taken on a smartphones, all by amateurs.
The story is a simple one to write using a common recipe. It does need to be produced soon after the event to be newsworthy.
Headline

: Cub Scouts did something fun, outdoors and unique

Story

: Pack 1 Cub Scouts had a great experience doing something fun, learning something new.

Pictures

: Close ups of excited Cub Scouts doing an activity. Send files as a .jpg attachment.

Closing

: Cub Scouts is a year-round outdoor program for boys in grades 15. For more information contact: _____________.
So, why make the effort?
We have a great story to tell. Press coverage instills as sense of pride in Scouts about their program and unit. It helps define the Scouting brand in your town. It validates our Scouts. At our feeder school, press clippings of students are posted in a prominent location a common practice. Because of the nature of our program as civically engaged and offering unique programming we have the ability to generate press other youth activities can only hope to create. Finally, telling our story in an invitational way will help to address a perception of Scouting as a closed system and open for new members.
Our Council also has the ability to help your Pack get PR at a greater level for seriously awesome events and activities. Check out the examples from Pack 126, Wilmington this Spring:
If you are having an event of this nature that you feel deserves broader press than just within your community, please contact Brice Pearce, our Communications and Sales Manager via email or Facebook.