Submitted by Komba Lamina, Urban Scouting and Exploring Executive
When I saw the video of Alton Sterling's killing for the first time, it frightened me. The video evokes memories of waking up to sounds of gunshots and artillery fire on one beautiful October morning in Koidu Town, Sierra Leone; rebels had attacked the city that morning. I felt broken, my spirit dampened, and experienced fear on that day like I never felt before. It was as if hope had left my being. I felt exactly the same way today, after viewing the video again.
I was equally horrified when I woke up to news of another police involved shooting in Minnesota, and the senseless killing of five police officers in Dallas, Texas.
I'm sure that the perplexed feeling I had was shared by many here in America and across the world. And like many of you, I asked myself these questions: what are we becoming and what are we to make of these tragedies? I also asked myself what can I do to help put a stop to it?
It was with that feeling that I called a few of my team members to see how they were coping. I wasn't shocked to hear that they were also confused, fearful and broken. They also asked themselves the very questions I was grappling with.
As the professional overseeing the inner city program for the Boy Scouts of America in Northeastern Massachusetts, most of our Scouts are minorities. I have often wondered what our Scouts are feeling during moments like this. I wonder if they have the avenue to express themselves in a positive manner and come to grip with this reality — and most importantly, what can I and the Boy Scouts do to stop these tragedies.
Many Americans and citizens around the world are asking themselves similar questions as to what they can do to ensure these tragic and hurtful occurrences come to a stop. That's what I heard speaking to my teammates, and that's what I derived from Chuck Eaton, our Scout Executive's (CEO) email:
Komba,
The news for the past couple years regarding race relations has been troubling – to say the least. Scoutreach obviously has more to do with financial and parenting support then race, however we all know the majority of those scouts are people of color, while the majority of our council is white. We should be an organization of action, not rants or blogs. But it's so hard to figure out what to do, and stay away from the political aspect of things. I have a few ideas, but I think it's more important the ideas come from you, or your Scoutreach staff, or others. If you have any ideas I'd like to support them if not, maybe we can brainstorm together. I hope you and your family are doing well. Thanks
Chuck
Chuck is right, we must act, but act in a meaningful way. We understand that this is a very sensitive issue, therefore, many organizations stay away from it for fear of antagonizing the public. Because of what we (the Boy Scouts of America) do, (which is helping to shape the lives of youth), we cannot shy away from these issues. As a professional tasked with overseeing Scouting in urban areas, and as an Exploring Executive that works with police officers, I see community and the very best in each of us.
As an organization, we must take a stand for what is morally right, not convenient. We must foster an environment that allows our Packs, Troops and Crews to become places where genuine interaction between youths and adults occur regardless of political association, skin color, or profession. That is by facilitating a space for genuine interaction that celebrates all of our differences and help bridge gaps that exist in our communities. A space where young people are equipped with life skills. In this space, our focus is youth and equipping them with character that builds a healthy nation.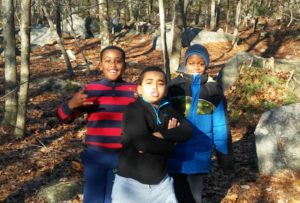 This space brings all of us together and in the process helps us learn a bit more about the other. In the end, we define ourselves less by our profession, skin color, political affiliation or financial aptitude. Widening this space is what I intend to do to help put an end to these hurtful times.
Please join us on Saturday, October 29th, at New England Base Camp's Camp Sayre in Milton, MA