Submitted by Paul Gendreau, Membership Campaign Manager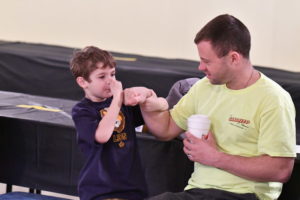 In addition to surveying our member families and leaders (voices of the Scouts), BSA also takes the pulse of non-member families. It seems that nationally lots of people leave Scouting before they even get their feet wet. This appears to be particularly evident with the current generation of parents, a generation that we need to improve on reaching. Millennials as a group tend to value inclusiveness and being included as well as having what they do for work and social activities be meaningful pursuits. A simple internet search points one to many sources of information on Millennials, who are now making up the group whose children are eligible to enter Scouting. Here is one link to a brief outline for those who'd like to see a handy synopsis on this generation
The position of New Member Coordinator (NMC) strives to have a non-uniformed person whose job it is to smile, welcome them, cut through Scouting jargon and help engage them with all that Scouting can do for their family as well as all they can do with their family. While Millennials are not big into hierarchy, they want to be part of a team of people who achieve some goal. Other aspects of this generation's general outlook make it appear that Scouting should be particularly attractive as they espouse conventional values and views.
Lots of our units have parent orientation meetings to explain how Scouting works in their unit. The NMC position substitutes one on one relationship building for the traditional group orientation. Remember, Millennials as a group are the ones who've been protected/sheltered all their lives and have been brought up to believe that they are special. The NMC uses that view to the unit's advantage by forming a special bond with new parents and the family as a whole. Where the role has been used, it appears to have the desired effects of increased parent engagement and eventually, greater ease in cultivating these parents to help with the unit as well as becoming registered as leaders or committee members, and with that comes improved youth retention. That's the bottom line after all – keeping young people in Scouting long enough for it to work its magic.
This just in from National BSA:
We recently announced the New Member Coordinator position (NMC) that is available for every type of unit. New Member Coordinators guide new members and families through joining and engagement, share the benefits of Scouting and help coordinate recruitment. They are essential in relationship building and membership growth.
As an incentive for units recruiting New Member Coordinators, the first 2,500 registered New Member Coordinators that complete the online New Member Coordinator Welcome Course, will receive an email to choose a free New Member Coordinator hat or shirt.
There aren't too many people registered in this position yet. As an example, we have yet to receive an application for a New Member Coordinator in our council. Jump in now to get your free hat or shirt! Note that a requirement is to take the welcome course. You get to it by logging in to my.scouting.org and then clicking on BSA Learn Center. If you have trouble with your browser, try either Chrome or Safari.
This week, I sent an email to Cub Scout and Boy Scout unit leaders and Committee Chairs asking if they had someone who was fulfilling this role, even if unofficially and how it was going if you did. If you did not reply and still wish to let us know how it is working out for you, you can email [email protected].