Types of  Training:
Pathways to Training at New England Base Camp

Training Courses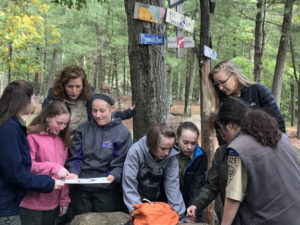 FREE at Base Camp! Learn Outdoor Skills in the Outdoors!
Are you new to Scouting? You just raised your hand to be a Den Leader or a Scoutmaster and don't know where to begin?
Bring the scouts and their families to Base Camp for an afternoon! It's free with your Adventure Card! While you are there, the scouts can work on badges and you'll participate side by side and walk away with your adult badge for training! It's simple - while they have fun measuring, preparing and cooking meals, you simultaneously learn how to manage a meal for a group of scouts.
BALOO Training and IOLS Training available every week at Open Program in Milton! It is recommended that you plan to complete these trainings in groups of two or more.
(Note: Overnight camping is required for these trainings, so one can either earn the certification by booking an overnight or providing proof of one.)
Youth Protection Training: 
True youth protection can be achieved only through the focused commitment of everyone in Scouting. It is the mission of Youth Protection volunteers and professionals to work within the Boy Scouts of America to maintain a culture of Youth Protection awareness and safety at the national, regional, area, council, district, and unit levels. Protección Juvenil En Español